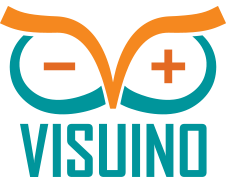 The components found in the Visuino software represent their hardware components and you will easily be able to create and design your programs using drag and drop. No equipment or hardware is needed to run the software in design mode. Once you have completed the design, you can connect Arduino board upload and run it.
For those people who are not strong on writing code then designing, compiling and creating Arduino programs has never been easier! Why waste time on creating code when we have done all the hard work for you already? You have your Arduino board, and great hardware design, see it running in minutes, not hours!
We recommend that you join the MeWe group to keep up todate with all the latest releases.
---
Why do I need Visuino?
Fast and Easy!
If you are a hardware developer and don't have much time to become an expert in software development then you can let Visuino become your personal software expert. If you've been exposed to the existing offering from Arduino you may be overwhelmed by the complexity of designing code to run your hardware components.
We've taken the effort out of coding and created a drag and drop programming environment based on our OpenWire technology where everything is linked together by a series of diagrams and pins. Visualize the design of your code and deploy!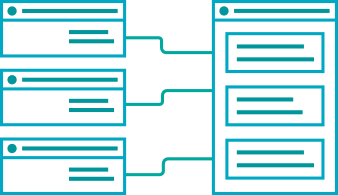 Visuino sites 
In different languages!
Visuino Europe - Visuino site for European users.
Visuino Turkey - Visuino tutorials site in Turkish.
---
Visuino Partner Program
Join in on the fun!
Visuino has partnered with 4D Systems to support their range of advanced smart displays, and solutions.
---
We've always been part of promoting community driven projects and we are proud to introduce our partnership program where Visuino is assisting in making a difference in how Arduino is being adopted specifically when it comes to training young minds who are excited to embrace the world of electronics and robotics.
ESPcopter is a really cool, ESP8266 based programmable Drone currently on arikovani: https://arikovani.com/en/projects/programlanabilir-mini-drone/detail The drone is expandable, and has GPIO pins for connecting extra sensors and actuators.
The goal of the project is to find the best way to program the ESPcopter drones with Visuino and to unlock the full ESPcopter potential, as a single drone, or even as a swarm of drones.
---
Aerobotics Global understands that children are fascinated by autonomous machines. They aim to release that natural curiosity for how things work in students by my making robotics the focal point of all our training and education workshops. They consider the use of robotics to be an amalgamation of all important fields (STEM), which prepares students for today's technology driven era and helps them walk hand in hand with the latest available technologies.
Visit aeroroboticsglobal.com website
---
Screen Shots
Our Software in Action!
Click on a screen shot to view a larger version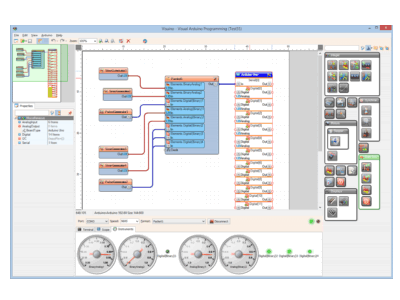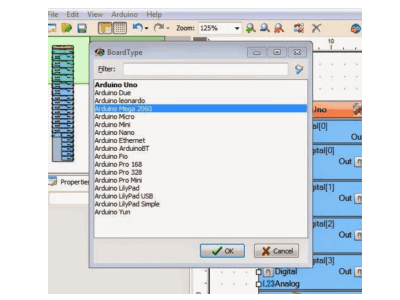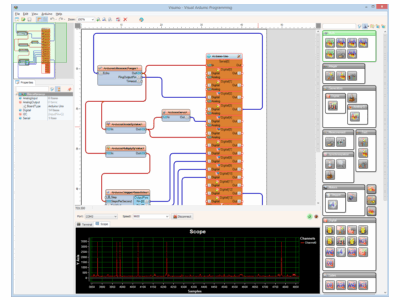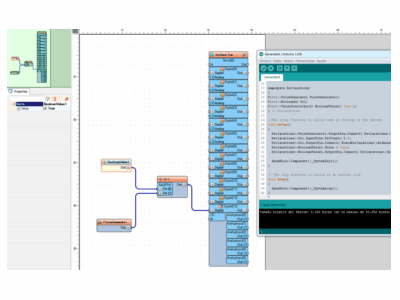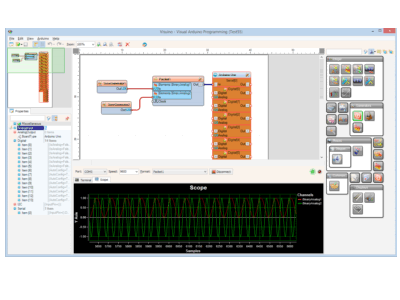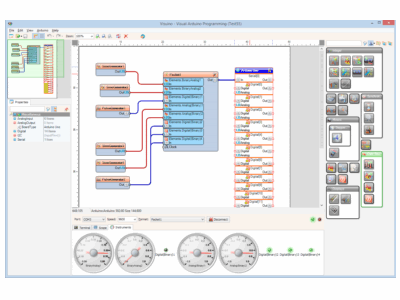 ---
Videos
Learn how to use Visuino
The first video in our series shows you how easily it is to use the software.
---